| | | | | |
| --- | --- | --- | --- | --- |
| [ | Current Mood | | | ditzy | ] |
| [ | Current Music | | | Sucker Punch OST-I want it all/We will rock you (Mash up) | ] |
"Schwarze Nacht" March 2012
or checking out normal guys on a Goth Party?!

On a late Friday night, Calu (one of my oldest and currently my best friend), her boyfriend Bambi and me went to the only regional and monthly gothic party near our hometown, which is so called "Schwarze Nacht" (in eng.: Black Night). I`m going to this party since I`m 18 years old, when it has started in 2008. So, I know the most people there, who come regularly to this club/event hall. It is very private and familiar, but you can also see some new faces from time to time. Of course this Goth event can`t compare to the parties in bigger cities or a festival like the Wave-Gotik-Treffen in Leipzig, but the atmosphere there is very special and you often meet new people, for making friends. So, the first reasons for going there are for me, meeting my friends and have fun with them. Ok, but now let`s come back to the evening, I`d like to tell you about...

We came to the party around 23:00 o`clock and firstly met Dan and Julia, who are also some of my closest friends for three years now. After a few minutes and saying "hello" to the other visitors of the party, Dan came over me and used me to drink some Capitan Morgan with him, what was totally fun, because these long drinks were strong as hell and I hadn't drink alcohol for a while. So it didn`t took much time to feel the alcohol a little bit. Furthermore I talked to Julia and Dan and informed them about my birthday-party, which will be taken in April 2012 and planned with them what we could do for it. Dan was so cute and said, that he will make a CD with Songs for my "Pop trash-birthday", because I really like to listen to silly pop songs and singing/dancing to them.
A little bit later, some "normal-dressed" guys walked into the club and I said to Calu: "Hey, what they are doing here? I don`t think they like Goth music or industrial!". I have to say it doesn`t matter for me, what people are wearing on a gothic party, of course I also do not look soooo much like a gothic-girl or something. The style is not important, just the inside is the important part and I don`t want to say that I`m a kind of gothic. First of all I'm a human, who loves alternative clothes and the dark side of living. Should the people think what they are, maybe I`m a Goth or a Emo or something like that. It is not important what I`m for foreign people, it's essentially what my friends and my family think about me.
So at this evening I wanted to check out, what those guys wanted on such kind of party, because the last time I have been at the "Schwarze Nacht" in December 2011, some russian guys also came to me and said something like: "Oh what are doing here? You are a blonde, blonde girls can`t stay at a gothic night you have to dye your hair black..." etc. blablabla.. Well, this was some of the funniest comments I`ve heard about my style so far.

So, Calu and me looked at the dancing people in the middle of the club (next to this group of boys) and it doesn`t took long time, if one of those boys started to ask me something. But at the same moment the guy appealed to me, Calu said: "Oh, Streifi is over there. Come let`s talk to him and say "Hello"! I was like "Omg, what are you talking about? Who is Streifi?!" And I really got a laughing flash, while the guy wanted to talk to him. So, Calu catched me and we leaved the group of boys (they really looked pissed off, because of my laughing) for talking to "Streifi", a Middle-ages nerd and a chat partner of Calu. Oh it was so embarrassing for me. The perfect timing as always, when Calu and I are together, because this wasn`t the first time a guy appealed us and one of us had a laughing flash. But it was very nice to meet "Streifi", because he had so a nice fox fur-pocket on his belt. I really had to touch it, it felt so soft and smoothie.

The evening ended like the most evenings are ended at this party: with total craziness, what I`m addicted to *haha*. Dan was jagged, I was a little bit drunken and Calu was so happy that she went with me to the toilet room to practice "Glow Stick skipping". Yes, you read it, we put some glow sticks together and made a rope of it and then we skipped at the toilets.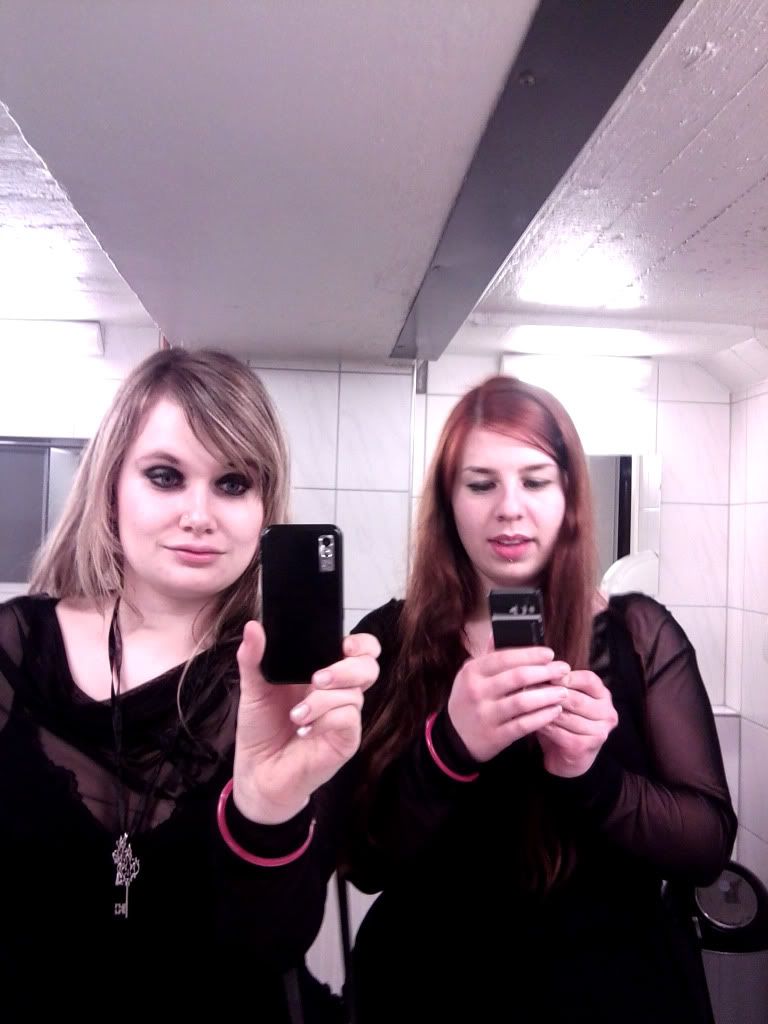 Other Photos of the "Schwarze Nacht" at 3th March 2012 can be found on facebook:
http://www.facebook.com/#!/media/set/?set=a.318404894882918.74540.168298019893607&type=3